Симпозиум «Цели Развития Тысячелетия ООН, Вопросы Нетрудоспособности и Старшего Возраста: точки соприкосновения между проблемами»/ май 2009
Symposium on Forging links between the UN Millennium Development Goals, Disability1 and Aging2 Problems
Во втором квартале 2009-го года фонд МГИ выступил в качестве коспонсора симпозиума, организованного совместно с Московским отделением «Клуба Львов», по вопросам точек соприкосновения между отдельными пунктами Целей Развития Тысячелетия ООН, в частности – между темами Нетрудоспособности и Вопросов Старения. Формулировка «на пути к обществу для всех возрастов» была выбрана в качестве наиболее подходящего девиза для данного мероприятия.
<…>
[В ходе мероприятия] участники постановили, что в процессе рассмотрения проблем Нетрудоспособных Лиц и Людей Старшего Возраста в рамках контекста Целей Развития Тысячелетия появляется необходимость переформулировать девиз мероприятия. Очевидно, мы должны стремиться к созданию общества не только для всех возрастов, но для всех и каждого без исключения.
<…>
"Частности любого рода, – заметил один из выступающих, - не должны препятствовать нашей возможности видеть всю картину. Я имею в виду, что, принимая во внимание множество факторов, темы "Людей Старшего Возраста" и "Нетрудоспособных Лиц" должны рассматриваться в качестве вопросов равной степени важности вообще и в частности – в контексте Целей Развития Тысячелетия ООН.
On the second quarter of 2011 WHD acted as a cosponsor of the symposium organized in common with the "Moscow Art" Lions Club on the forging links between some points of Millennium Development Goals, particularly Disability and Aging Problems. Thesis "to society for all ages" was considered to be a most appropriate motto for this occurrence.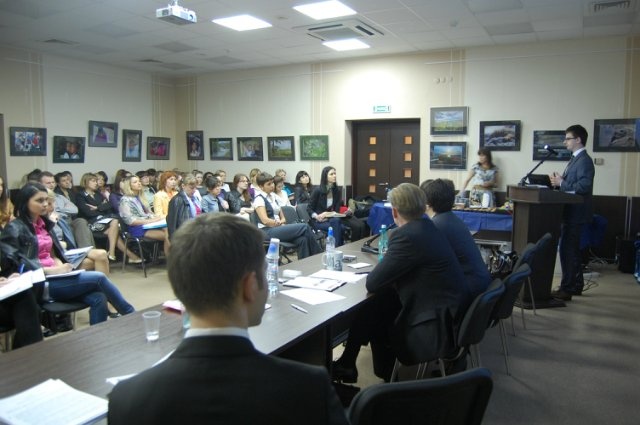 On June 11, 2009 the representative of WHD attended the meeting devoted to the problem of integrating Disability into the Millennium Development Goals. A following occurrence on the same topic took place on December 21, 2010, when the General Assembly resolved that as far as persons with disabilities make up an estimated 10 per cent of the world's population, 80 percent of whom live in developing countries, it calls the World Community to promote the realization of the Millennium Development Goals for persons with disabilities by, inter alia, explicitly including and mainstreaming disability issues and persons with disabilities in national plans and tools designed to contribute to the full realization of the Goals. This resolution, apparently, is closely associated with the report of the present Secretary General entitled "Keeping the promise: realizing the Millennium Development Goals for persons with disabilities towards 2015 and beyond", in which Mr. Ban Ki-Moon emphasized the necessity of making our social institutions more comfortable and appropriate for disabled persons.
Partakers of the symposium observed that the above-mentioned thesis has common issues with the one for the 10th Anniversary of the International Year of Older Persons: "towards a society for all ages". "We can easily trace back an obvious continuity of the policy which had been started by Julian R. Hunte, President of the fifty-eighth session of the General Assembly, who proposed to consider older persons as a new power for development, stressing an ingenuous connection between ideas of building a society for all ages and Millennium Development Goals" – noted one of the speakers.
Discussing common issues of Disabled Persons' and Older Persons' subjects, the participants of the symposium turned to statistics. Older Persons present the same percentage of the world's population as Disable Persons: 10%; also the number of Older Persons who live in developing countries look similar: 70% comparing to 80% of Disabled members of the society. In this regard Kofi Annan has noted in his message on occasion of 13th International day of Older Persons that over the next few decades, older persons will form an increasingly large and important presence in communities and societies everywhere. "It acknowledged, - claimed the former Secretary General, - that older persons represent a powerful but untapped resource for society. It put forward recommendations on how we can adjust to an ageing world and build a society for all ages".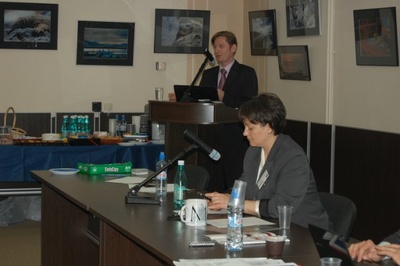 "We can always quote from Kofi Annan's or Julian R. Hunte's messages which teach us to treat older persons as a most cherished resource" – observed a symposium speaker. – But one is barely able to remember a similar quote on the Disabled people topic". The participants resolved that while putting Disabled People and Older Persons into the bounds of Millennium Development Goals context a necessity of reaffirming the motto appears. Actually we should build not just a society for all ages, but a society for all and particularly everyone without exception.
"The older Persons issue has been included in UN agenda for at least 30 years, counting from the moment when the Vienna International Plan of Action on Ageing was adopted by the World Assembly in 1982, – stated the next speaker, - what means that developers of initiatives linked to the disabilities' problems can use an experience derived from working on Ageing subject".
"Details of any kind – said another interlocutor, - shouldn't prevent us from seeing the whole picture. And I am talking about the fact that taking into account numerous factors, "Older Persons" and "Disabled People" subjects must be regarded as issues of equal importance in general and particularly within the framework of the UN Millennium Development Goals".
________________________________________________________
Background Information
1Disability Problems

According to the World Health Organization, approximately 10 % of the world's population – or 650 million people – live with a disability. Almost 80% of them live in isolated rural areas in developing countries. Persons with disabilities constitute the world's largest minority group.
Faced with economic, social, physical and other barriers which hamper their full participation in society, people with disabilities often lead isolated lives, disconnected from their own communities. They face particular challenges in education and training with many being denied access to basic literacy and numeracy skills. As noted in the most recent Millennium Development Goals Report (2010), "the link between disability and marginalization in education is evident in countries at all levels of development." It is estimated that over 90% of children with physical and mental impairments in developing countries do not attend school.

Data regarding the employment situation of persons with disabilities indicates that they encounter serious hurdles in job markets throughout the world. They are frequently denied employment or given only menial or poorly remunerated jobs. Furthermore, myths abound that persons with disabilities are unable to work and that accommodating them in the workplace is expensive. Current statistics indicate that in developing countries, 80% to 90% of persons with disabilities of working age are unemployed; in industrialized countries the figure is between 50% and 70%. United Nations Secretary-General Ban Ki-moon has called on governments to do more to support people with disabilities and to implement the UN Convention on the Rights of Persons with Disabilities, which entered into force in 2008.
2Aging and Life Expectancy

The composition of the world population has changed dramatically in recent decades. Between 1950 and 2010 life expectancy worldwide rose from 46 to 68 years, and it is projected to increase to 81 by the end of the century. It should be noted that at present women outnumber men by an estimated 66 million among those aged 60 years or over. Among those aged 80 years or over, women are nearly twice as numerous as men, and among centenarians women are between four and five times as numerous as men. For the first time in human history, in 2050, there will be more persons over 60 than children in the world.

Almost 700 million people are now over the age of 60. By 2050, 2 billion people, over 20 per cent of the world's population, will be 60 or older. The increase in the number of older people will be the greatest and the most rapid in the developing world, with Asia as the region with the largest number of older persons, and Africa facing the largest proportionate growth. With this in mind, enhanced attention to the particular needs and challenges faced by many older people is clearly required. Just as important, however, is the essential contribution the majority of older men and women can continue to make to the functioning of society if adequate guarantees are in place. Human rights lie at the core of all efforts in this regard.